Traverse City Water Trampolines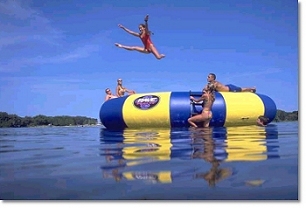 Looking for lots of fun for the whole family? Our water trampoline is good for 1-6 persons. Delivery only. Give us a call and we'll give you a great rate!

Call us today and reserve your Traverse City water trampoline rental. Northern Michigan is the land of water, and there's no better way to enjoy it than a watersports rental from Break'n Waves! Hello,fun....


For Your Information

- 20' tube
- up to 6 people at a time on tramp

- Trampoline deliveries please call 231-409-3969 ask for Jimbo...